Friends of the Library Pivot: Adapting Traditional Book Sale, Continuing to Raise Funds
Taylor Keeran
No one will argue that this year has been anything but normal. Masks, closures, stay-at-home orders and the "new normal" all come to mind when thinking of 2020. But, through it all, Citrus County has seen resiliency, and community coming together to support one another, for which the Friends of the Library are very grateful.
This past July, the Friends of the Citrus County Library System (FOCCLS) board met and came to the painful conclusion that the Fall Mega Book Sale planned for October would have to be cancelled. After taking a few weeks to regroup and brainstorm, the Friends knew that they were going to need to pivot. "Our inventory was piling up and we knew that we needed to make a plan and fast," recalled FOCCLS President Sandy Price. "Everyone was at home, so they were cleaning off their bookshelves and donating, but with no book sale on the horizon, we were starting to worry about an increasing inventory and options to raise funds for our libraries."
Then, the idea came up: can we host a smaller sale outside? The more the board considered the idea, the more they started to see the beauty in it. The customers could shop in the open air, it would make it easier to social distance, and they could start emptying out some of the hundreds of banana boxes that were piling up! Their first "pop-up, mini sale" was at the new depot in Inverness, a perfect place to test the waters. "We were thrilled with the turnout! Longtime book sale attendees came to us looking for puzzles and bestsellers and new customers who were just browsing stopped by as well. It was exactly what we needed as a board and has been giving us all something to look forward to every couple of weeks," said Joni Billison, a FOCCLS volunteer, "we have a way to raise funds for the library again."
Since the Labor Day weekend sale back in September, the Friends have hosted six Sidewalk sales this fall. In a typical year, the Friends will raise roughly $30,000 at each of their mega sales. If you look back to when the sales started in 2001, the Friends have collectively raised more than $1.4 million for the library system, with the proceeds from the sales going back into library programming and the expansion of the library's materials collection. "With everything that has gone on this year, we are so thankful that the community has come out to support us at these mini-sales," said FOCCLS secretary Karen Slaska. "They have helped us raise more than $10,000 dollars this fall, which is less than usual, but more than we anticipated after we had to cancel the mega sale."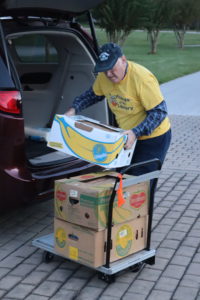 But, the Friends aren't done yet! "There are 3 more sales planned for this year, and we're looking to raise another $5,000 to bring our total for this fall to $15,000 raised for the libraries," shared Janet Genova, the FOCCLS Vice President. "Many items, such as books and puzzles, are in like-new condition making them great gifts during the holidays. With the additional sales people will have plenty of opportunities to complete their holiday shopping!" All of the sales have a wide-variety of fiction and non-fiction books available, with something for everyone, and books for the kids and teens. "And the puzzles go fast at every sale – so if you want the best selection come in the morning hours!"
You can join the Friends for two Sunday Sidewalk Sales at the Central Ridge branch on Sunday, November 22 and Sunday, December 20 from 9:00 AM to 2:00 PM. There will also be another 2-Day sale at the Village West Plaza, located at 593 E Gulf to Lake Highway (Highway 44), on Saturday and Sunday, December 5 & 6 from 10:00 AM to 4:00 PM.
Attending a sidewalk sale isn't the only way to support the Friends of the Library this year. Becoming a Friend at your local branch is an easy first step! All you need to do is stop at your branch's circulation desk and ask for an application to become a Friend. For more information about becoming a Friend of the Library, go to citruslibraries.org/be-involved/friends-of-the-library/ or check out their website directly at www.foccls.org. You can also make a tax-deductible donation directly to the Friends of the Citrus County Library System by sending in a check made out to "FOCCLS" with "donation" in the memo line to 425 W. Roosevelt Blvd, Beverly Hills, FL, 34465.
Our branches are also accepting donations of new and lightly-used books and puzzles, Monday-Friday from 10:00 AM – 4:00 PM. Please contact your branch directly if you have questions about which donations are accepted and where to drop them off.
To stay up-to-date on when and where sales are happening, you can follow the Friends of the Citrus County Library System, or Citrus County Library System on Facebook. If you would like more information about this topic, please call the Friends of the Citrus County Library System at 352.513.4221 or email friendsofccls@gmail.com.