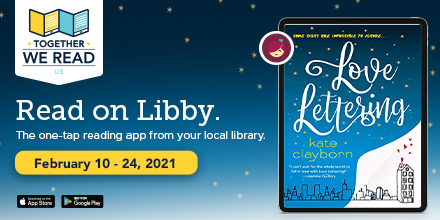 Borrow  Love Lettering by Kate Clayborn in eBook or eAudiobook format through Libby with no waitlist or holds from February 10-24!
Join the Together We Read Book Club when borrowing Love Lettering and connect with readers in the United States reading it at the same time!
---
Summary
One of the most beloved romantic comedies of 2020, Love Lettering is a heart-melting and touching story that fans of Tessa Bailey, Jen DeLuca, and Emily Henry cannot miss.
In this warm and witty romance from acclaimed author Kate Clayborn, one little word puts a woman's business — and her heart — in jeopardy…
Meg Mackworth's hand-lettering skill has made her famous as the Planner of Park Slope, designing custom journals for her New York City clientele. She has another skill too: reading signs that other people miss. Knowing the upcoming marriage of Reid Sutherland and his polished fiancée was doomed to fail is one thing, but weaving a secret word of warning into their wedding program is another. Meg may have thought no one would spot it, but she hadn't counted on sharp-eyed, pattern-obsessed Reid.
A year later, Reid has tracked Meg down to find out how she knew that his meticulously planned future was about to implode. But with a looming deadline and a bad case of creative block, Meg doesn't have time for Reid's questions — unless he can help her find her missing inspiration. As they gradually open up to each other, both try to ignore a deepening connection between them. But the signs are there — irresistible, indisputable, urging Meg to heed the messages Reid is sending her, before it's too late…