Love your Library 2021: Reimagined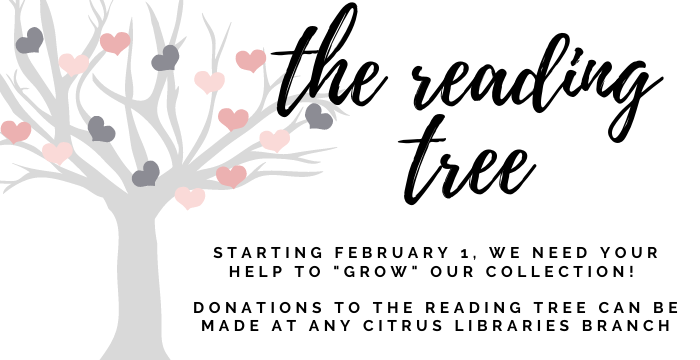 The Citrus County Library System (CCLS) in support of the Library Advisory Board, will continue to promote our signature library advocacy event. This year we are reimaging "Love Your Library." For over a decade, our Friends, Volunteers and supporters from all over would come together on a joyous Friday night in February to celebrate all of the amazing things that libraries provide for in Citrus County. This year will be different.
The huge, one night, in-person bash is being replaced with a month-long celebration of libraries, books, and reading throughout February, with a new focus and different goal. This year, we're asking the community to help grow the collection with a donation to the CCLS Reading Tree!
What is a "Reading Tree" you ask? The CCLS Reading Tree is a visual representation of the collection as it "grows" daily, and how close we are getting to our goal of 500 new books! It's a simple process. Go to your branch and locate the large, hard to miss Reading Tree. There you will find 3 donation levels to choose from including Youth book ($15), Adult Fiction ($20) and Adult Non-Fiction ($25). Choose your favorite and head to the customer service desk to complete the process. You can donate anonymously, in honor or memory of a loved one, an inspiring teacher or friend, or you can even list yourself!
Can't make it to the library to donate? Don't worry! Simply go to https://www.citruslibraries.org/donate and make your contribution online with any major credit card.
After you finish the donation process, the anticipation begins. It will take our team a little while to process all of the donations and get the books purchased. Once all of the items are received and ready you will be notified via email. We hope to have all of the books available in the collection by late spring.
The success of Love Your Library has depended on the unwavering support of many, including the continued backing of Suncoast Credit Union, Crystal Automotive, Duke Energy, and the Citrus County Chronicle. We know that this year, with your help, Love Your Library will continue to be a success for the benefit of all in our community.
Thank you, Citrus County!
Donate
---
Thank you for your support!