Friends of the Floral City Library
2020 Board of Directors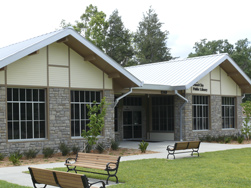 Officers:
President: Phyllis Peters
Vice-President: Mary Van Eepoel
Secretary: Cathi Ayers
Treasurer: Chris McIntire
Membership in the Friends of the Floral City Library is open to everyone interested in promoting the library and its mission of community education for all.
Established in 1983, the Friends work to support the Floral City Library in a multitude of ways. The Friends sponsor classes and special events, volunteer their time at the library, during book sales, and work with other organizations in the community. The Friends were also integral in pushing for a new library in Floral City that complimented the town's historical aesthetics
There are three classes of membership for the Friends of the Floral City Library: Individual, Family, and Life. Individuals memberships are $10/year.
We meet the second Tuesday, every month September through April in the program room of the Floral City Library. (Except January and April)
Election of officers occurs in March, with installation taking place at our Annual Picnic in April at Floral Park.
Correspondence can be sent to the President addressed to the Floral City Public Library, 8360 East Orange Avenue, Floral City, FL 34436-3200.